Watershed Voices will create musical works that celebrate regional biodiversity (through sonification of scientific data) and human diversity (through writings from diverse cultural voices both past and present), thereby engaging audiences in both New York State and Quebec in a shared artistic experience of our shared Champlain Basin. Glenn McClure will compose at least two new musical works. He will also mentor three composers in the creative technique of sonification and each will write one musical work.
Sonification of data from Lake Champlain
A minimum of five choral and instrumental works will emerge from the sonification of data from Lake Champlain Basin water sources. The core musical content (melodies and chord progressions) will be driven by lake core data collected and curated by Dr. Curt Stager of Paul Smith's College. Data used for this project will be different from Dr. Stager's former project. Lake core samples represent thousands of years of climate history and human intervention in the Champlain Basin.
Just as we learn from a young age to translate data into pictures (line and bar graphs) we can also translate data in musical notes through modular mathematics. This presents a tangible link between the subject and the musical expression. It also acts as a point of collaboration between scientists and musicians in their common goal to engage the public in an integrated experience of the natural world. The lyrics will be drawn from writings of Lake Champlain Basin poets, residents, explorers, and cultural leaders both past and present. They will represent diverse racial and linguistic communities, including indigenous artists.
Memory not only exists in the human mind but in our environmental record. Lake core samples tell us of the changes in the natural world and the human footprint of the Champlain Basin going back beyond the time of the Roman Empire. The words of our diverse residents over time helps us understand the world we have inherited and informs our decisions moving forward. Music allows us to combine the musical voice of the Earth with the human voices that continue to shape our collective identity.
Events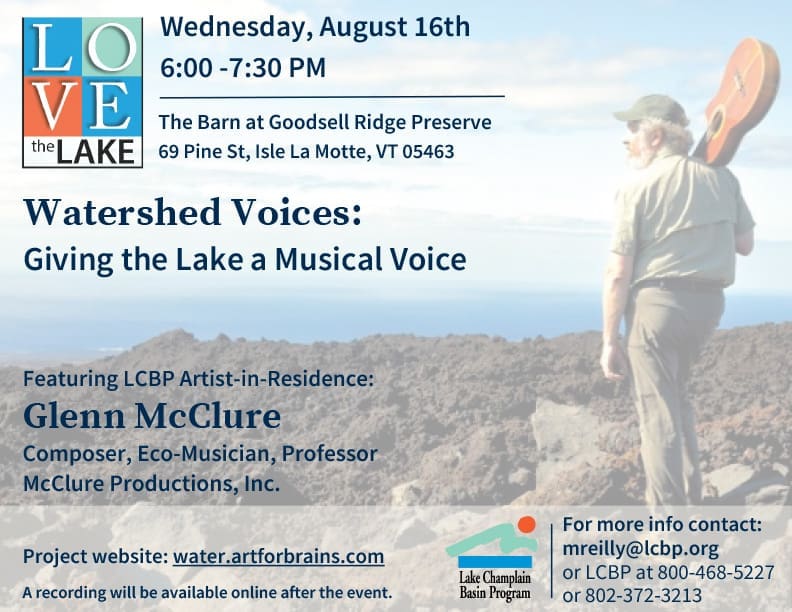 Project Partners
The Lake Champlain Basin Program (LCBP) coordinates and funds efforts that benefit the Lake Champlain Basin's water quality, fisheries, wetlands, wildlife, recreation, and cultural resources, in partnership with government agencies from New York, Vermont, and Québec, private organizations, local communities, and individuals.
ANCA is an independent, nonprofit corporation with a transformational approach to building prosperity across northern New York. Using innovative strategies for food systems, clean energy, small businesses, and equity and inclusion, ANCA delivers targeted interventions that create and sustain wealth and value in local communities.
The Adirondack Diversity Initiative (ADI), a program of ANCA, exists at the intersection of environmental and transformational justice, working to make the Adirondacks a more welcoming and inclusive place for both residents and visitors while ensuring a vital and sustainable Adirondack Park for future generations.
NEIWPCC is a regional commission that helps the states of the Northeast preserve and advance water quality
Dr. Jay Curt Stager has taught at Paul Smith's College since 1987. He received his Phd from Duke University. He received the 2013 Carnegie-Case Foundation Science Professor of the Year, for New York state. He now serves as the Draper-Lussi Endowed Chair in Lake Ecology and Paleoecology. Dr. Stager uses sediment cores from lakes to investigate ecological changes over thousands of years, particularly with respect to environments in Africa, Peru, and the Adirondacks. He has published numerous books and scientific articles, including several articles in the NYTimes.
Performance Partners
Orchestra of Northern New York The Orchestra of Northern New York (ONNY) opens its 36th season in September 2023. Its mission is to enrich the quality of life for all people in our region by sharing the power of music to inspire, educate, and entertain. It is the only year-round professional symphony orchestra from Rochester to Burlington and Ottawa to Syracuse.
Northern Lights Choir, Director Helen Demong is a community choir based in Saranac Lake, NY that molds professional and amateur singers into a power, beautiful choral sound. They perform a wide range of repertoire from the classical tradition as well as folk and popular music.
The Choeur Classique de l'Outaouais, Director Tiphaine Legrand is a regional mixed choir of some sixty voices that, for decades, has contributed to the cultural development of the Gatineau region of Quebec. It offers the public classical works for large choir as well as works of modern and contemporary music including composers and arrangers from Quebec or elsewhere in Canada.
Le Chœur classique de l'Outaouais est une chorale mixte régionale de quelque soixante voix qui contribue depuis des dizaines d'années au développement culturel de la collectivité en Outaouais. Il offre au public des œuvres classiques pour grand chœur ainsi que des œuvres de musique moderne et contemporaine dont plusieurs de compositeurs et d'arrangeurs du Québec ou d'ailleurs au Canada.
Listen at NCPR
How science and music allow us to listen to Lake Champlain's voice